Festival honours Sheila
Written by Alison Hargreaves
18th April 2010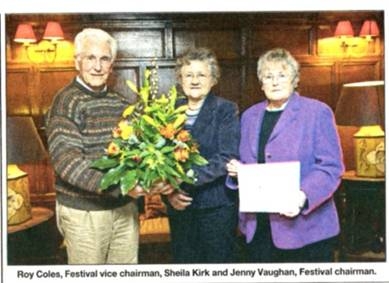 LUDLOW Festival has honoured its former Shakespeare production wardrobe manager with a life membership of the festival's friends association and a floral presentation.
Sheila Kirk retired from her positions as wardrobe manager and festival council member just before Christmas and the festival council marked the occasion with a presentation.
"Sheila has been a superb and incredibly dedicated wardrobe manager and a much valued member of the festival council," said festival chairman Jenny Vaughan.
"She has worked tirelessly on behalf of the festival and has always been a true professional – her superb work in the wardrobe department during our annual Shakespeare production has been very much appreciated by actors and directors alike."
Formerly a biology teacher, Sheila joined the festival wardrobe team in 1986, with the Chris Hayes' production of Romeo and Juliet.
"Fascinating"
Her first task was to look after costumes for a company which included Nicholas Smith (of Are You Being Served fame), Mandy Rice-Davies and a young Abigail Cruttenden.
She continued to work in the wardrobe department each year and in 1995 she took over as wardrobe manager from Connie Williams.
"I have measured out one third of my life in Ludlow Festival productions!" said Sheila.
"It has been fascinating and very rewarding. Looking back, I can recall an amazing procession of talented actors who have passed over the Ludlow Castle drawbridge – John Duttine, David Rentoul, Joanna David, Alexandra Gilbreath, Haydn Gwynn, Clifford Rose to name but a few.
"I have always been supported by dedicated teams of assistants without whom the job would be impossible, and now, with 26 productions behind me, I feel it is the right time to bow out with no regrets.
"I am leaving the festival wardrobe in the very capable hands of Judy McFarlane and her team and have every confidence 'the show will go on!'
The festival council and events committee is in the process of finalising next year's programme of events and the festival Shakespeare production is set to be Othello, directed by Ben Crocker.
Last Updated (18th April 2010)