Welcome to Kidderminster High School for Girls
Old Girls Association Website
Page updated by Rosemarie Morgan
18th Aug 2020
History
Kidderminster High School (KHS) opened on the Chester Road South site in 1912 and ceased to exist as a separate entity in July 1977 when it was amalgamated with King Charles 1st School and Queen Elizabeth 1st Grammar School (Hartlebury), becoming a comprehensive school.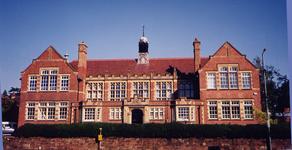 KHS OGA – What We Do
The main role of our Old Girls Association, which was formed in 1914, is to help former pupils keep in touch with each other.
An annual newsletter is sent out to members in the Summer. We have an AGM and luncheon in mid-September. There is usually a social meeting is held in the Spring.
Flowers are sent or taken by volunteers to Old Girls who are unwell or in need of cheer - let us know of anyone who would benefit.
We would like to make the OGA known as widely as possible , so if anyone has website , please set up a link to our site as it will help increase our chances of being found when anyone searches for us.
Our Facebook Page 'Kidderminster High School OGA'

is the most immediate and easiest way to stay in touch with old friends and Old Girls from other years.
As at May 2015 there were 253 members - including staff - and lots of photos.
If you have any news about yourself or your old classmates we would love to put them in the annual newsletter.
Please send information for the newsletter to :-
The Editor ,
Anne Budworth
108 Park Lane
Kidderminster
DY11 6TB
Email: budwortha@blueyonder.co.uk
Details of how to join the Kidderminster High School for Girls Old Girls Association ...
Next OGA event

Please note that the 2020 AGM and Lunch has been cancelled due to the current situation.
Please see News and Events page for further details.
NEWS
It is with deep sadness that we announce the death of Miss Beryl Bedford , who passed away peacefully at a nursing home in Kidderminster on March 19th.
Further details will follow as soon as we have them.
SUBSCRIPTIONS
Please note that from 1st September 2016 subscriptions will be £5 (non internet members) and £10 (for overseas non internet members ); life internet membership to be increased to £25,and so s tanding orders will need to be amended accordingly.
Last Updated by Rosemarie Morgan (18th Aug 2020)